August 31, 2014 at 06:54
#4751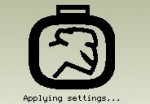 Vlad Ruzov
Participant
Anders,
Unfortunately the new DLL does not work on my EV3.
The simplest 'Hello World' only have cleaning half of screen instead of writing message.
I've tried dll loaded from the site and dll that I build from the sources. The results was similar.
With old dll all programs work fine.
In any case many thanks You for supporting .net mono c# on EV3.
IMHO it is the most convenient and effective IDE for creating robots and learning.