June 17, 2015 at 11:57
#5426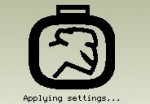 Martin Knudsen
Participant
Okay great.
So wifi works with the monobrick firmware, but I also now just tried to get the EDIMAX wifi to
work with the EV3 firmware.
But this does not work – not even with the lego IDE software.
But my firmware (official lego firmware) is 1.06H, so shouldn't the EDIMAX work on that also for wifi?