January 11, 2015 at 21:55
#5201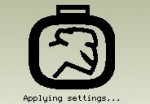 Lars Jeppesen
Keymaster
Hi Frank,
Unfortunately this adapters appears to use a chipset that isn't supported by the drivers currently included.
It also seems that it doesn't work on the Lejos (Java for EV3), but it might have been fixed in their newest release.
If you want you could try and see if you can get it to work with the newest Lejos release.
If that is the case I might be able to port the driver to the MonoBrick image.
Best regards
Lars