September 8, 2014 at 20:44
#4831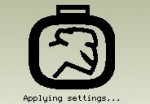 Roy Toren
Participant
I forgot to mention and I can't edit now.
I have also tried the speed profile, it works for a while but after the 10th turn with the hand robot there is starting to be an error range, that gets bigger with time.
I have to be as accurate as possibly can, the speed profile and power profile are not reliable since they rely on the engines power at that specific moment.
I have also tried leaving the battery charging while running the program and the error range keeps on coming.