August 10, 2014 at 08:48
#4596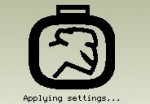 Vlad Ruzov
Participant
Helmut,
please do not be alarmed – I was not embarrassed or offended by your post.
Regardin test looping:
My assumption that the first loop runtime is not very important.
When the program control a real device (robot etc.) it have repeat management algorithm in a loop.
First loop runtime simlpe gives a delay at the start, but does not affect the response time in the future.
So, perhaps in the test results will be reasonable to publish average runtime of several (at least 5) loops…
I will look to your questions and tasks and will try come back ASAP.
Thank you.
Vlad.