March 30, 2014 at 19:54
#4098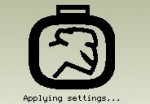 simo bejijou
Participant
Hello Anders,
Please find attached 2 photos, with native firmware(Screen_OK) & with monobrick firmware(Screen_NOK).
For info, I'm capable to connect Wifi and also I'm capable to run Motor example. (despite the hard navigation in the menu due to my display issue :))
Some auxilaury info may be it will help,
I'm using a sanDisk SD card with 2Gb, I repeated the SD bootable creation from another a mac using command lines as it's well described in your tuto.
I started by img 2Gb, the EV3 hangs in starting phase whith a screan with text mindtorms + Starting.
I repeated the operation with 512Mb with same SD card of 2Gb, then the EV3 is running OK except the display issue :(.
I hope this may give some hints to this issue solving.
Regards.
Simo
Attachments:
You must be
logged in
to view attached files.